Day 1 :
Keynote Forum
University of Bari, Italy
Time : 10:00-10:45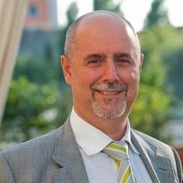 Biography:
Dr Joseph Cannillo is a Chiropractor, Nutritionist and Herbologist with over 25 yrs of clinical experience in Italy and for the past 20 yrs is conducting research and heading a private research laboratory with two Universities in Italy (University of Bari and Catania) on the action of herbal extracts on epigenetic pathways in Cancer and Metabolic Syndrome. His expertise is also in increasing the bioavailability of herbal active principles through nanotechnology. A graduate of LIU with a BS in Medical Biology (Cytology) and a MS in Molecular Genetics. He also received a DC degree from NYCC in 1988, and PhD in Botany and Herbology. He has been teaching Herbal and Functional Medicine to physicians in Post Grad.courses in Italy and Spain for the last 20 years. He is a laboratory mentor and professor for graduate students from the Biology and Pharmacy dept. of the University of Bari for there Graduate Research thesis on the action of herbal active principles in epigenetic metabolic pathways.
Abstract:
Persistent low back pain (LBP) is the most common form of chronic illness in patients age 60 and under, affecting 15% of the population. In addition to being a major health problem, it also has serious economic consequences. Current diagnostic and therapeutic approaches to chronic back pain are limited by our narrow understanding of the underlying biological mechanisms. As a consequence, treatment is not always effective and individuals may suffer for years without relief. LBP is often associated with signs of degeneration in the intervertebral discs. LBP encompasses a wide spectrum of pain disorders including axial pain in the low back region and radiating pain down one or both legs. The extracellular matrix protein SPARC (Secreted Protein, Acidic, Rich in Cysteine) has been linked to degeneration of the intervertebral discs and chronic low back pain (LBP). In humans, SPARC protein expression is decreased as a function of age and disc degeneration.
In mice, inactivation of the SPARC gene results in the development of accelerated agedependent disc degeneration concurrent with age-dependent behavioral signs of chronic LBP. DNA methylation is the covalent modification of DNA by addition of methyl moieties to cytosines in DNA. DNA methylation plays an important role in programming of gene expression, including in the dynamic regulation of changes in gene expression in response to aging and environmental signals. DNA methylation down-regulates SPARC expression in chronic LBP in pre-clinical models and in patients with chronic LBP.
There is evidence that DNA methylation of a single gene plays a role in chronic pain in humans and animal models. This has important implications for understanding the mechanisms involved in chronic pain and for pain therapy.
The metabolic effects of obesity have made this highly prevalent disease one of the most common risk factors for diabetes, hypertension, arthritis, and atherosclerosis, the leading causes of end-stage renal failure. Moreover, adipose tissue is now recognized as an immune organ that secretes numerous immunomodulatory factors and seems to be a significant source of inflammatory signals known to cause insulin resistance. Therefore, inflammation within white adipose tissue may be a crucial step contributing to the emergence of many of the pathologic features that characterize the metabolic syndrome and result in arthritis, low back pain, diabetes and atherosclerosis. This presentation will describe the role of proinflammatory cytokines and hormones released by adipose tissue in generating the chronic inflammatory profile associated with visceral obesity.Epigenetic factors contributing to hyper methylating promoter areas of certain genes that provoke degenerative disc disease. We will also discuss therapeutic interventions to prevent and treat such conditions, utilising Life Style changes, Nutritional interventions, Supplements, and Herbals.
Keynote Forum
President of INUG Nutrition Nutrition and Gastronomy Institute Brazil
Time : 10:45-11:30

Biography:
Daniela de Almeida is registered nutritionist, President of INUG Nutrição (Nutrition and Gastronomy Institute) Professor in Faculty of Technology Ipê FAIPE. Supervisor of the Post Graduation of Nutraceuticals and Nutricosmetics in Clinical Practice. She is since 2008 organizer and scientific director of the Functional Nutrition Congress and the Symposium of Sports Nutrition and Functional Gastronomy of RJ INUG. She has extensive experience in clinical nutrition, is educator in Diabetes by the International Diabetes Federation, Nutritionist of the Department of Nutrition and Metabology of the Brazilian Society of Diabetes and Co-author of the book "Guidelines of the Brazilian Society of Diabetes".
Abstract:
The prevalence of type 2 diabetes is rising worldwide, especially in older adults. Lifestyle changes, particularly in diet, can be highly effective in preventing, treatment, and even reversing type 2 diabetes. Lifestyle changes address the root causes of type 2 diabetes and can ameliorate comorbidities while reducing the risk of polypharmacy, particularly in the elderly. A variety of eating patterns are acceptable for the management of diabetes, like for example, plant-based diets. This kind of diet is especially potent in preventing and treating type 2 diabetes and have been associated with much lower rates of obesity, hypertension, hyperlipidemia and cardiovascular mortality. In addition, a diet with a high content of nutraceutical can be an appropriate strategy. A nutraceutical compound is a substance which has physiological benefit or provides protection against chronic diseases, or specific clinical conditions. Nutraceuticals may be used to improve health, delay the aging process and prevent chronic diseases, like type 2 diabetes. Various nutraceuticals have been studied to evaluate their impact on type 2 diabetes, glycemic control in people with diabetes, and on the various complications of diabetes. Specific nutraceuticals have proven to be of benefit, like berberine, Gymnema sylvestre, Milk thistle, Ginger, Ganoderma lucidum, plantago ovata, aloe vera, fenugreek and others. Better knowledge of selected nutraceuticals and more appropriate formulations, leading to improved bioavailability, will certainly widen the use of these agents, already in large use for the management of these very frequent patient groups. These products are promising and merit consideration and further research.
Keynote Forum
Lead City University, Ibadan, Nigeria
Time : 11:30-12:15

Biography:
Olusola Abiola Ladokun is a Professor of Nutritional Biochemistry in the Department of Biochemistry, Faculty of Sciences, Lead City University, Ibadan. She holds a PhD in Agricultural Biochemistry and Nutrition from the University of Ibadan, Ibadan, Nigeria. She is the current serving Dean of the Faculty of Basic Medical and Applied Sciences. She has to her credit several articles in both local and international journals, chapters in books and conference proceedings. Her areas of research include but not limited to Food Chemistry, Ethnopharmacology, and Functional Foods. She has attended and presented papers in conferences and workshops in Nigeria and Internationally
Abstract:
The purpose of this study was to investigate the diabetic effect of phytocompounds synthesized from Hunteria umbellata using GC-MS analysis and molecular docking studies. Peroxisome proliferator-activated receptor gamma (PPAR-γ) agonists are beneficial in the treatment of diabetes by stimulating insulin sensitivity and antagonizing hepatic gluconeogenesis. The aim of the present study was to investigate PPAR-γ agonist property of phytocompounds from Hunteria umbellata using in-silico approach. Molecular docking of Hunteria umbellata on human PPAR-γ protein was determined by Auto/Vina in Pymol 4.2 and compared with Gilbenclamide, a known agonist of PPAR-γ. Our present study reports the phytochemical analysis of the extracts of the seeds and leaves of Hunteria umbellata. 21 compounds were revealed through GC-MS analysis and screened using Autodock/Vina against PPAR-γ. Docking studies recommended that 2,2-Benzylidenebis (3-methylbenzofuran) an existing phytochemical from the seed of Hunteria umbellata had the highest fitness score of -11.3 Kcal/mol and hence could be a potent antidiabetic drug. Hunteria umbellata seed extract and its compound 2,2-Benzylidenebis (3-methylbenzofuran) have a significant antidiabetic activity against PPAR-γ. Molecular binding interaction of an in-silico data demonstrated that 2,2-Benzylidenebis (3-methylbenzofuran) has more specificity towards the PPAR-γ binding site and could be a potent antidiabetic compound.